About W-film
GREAT LOVE FOR SPECIAL FILMS
Since 2000 W-film is distributing artistically valuable independent and arthouse films in the cinemas. Our passion is reflected in our diverse repertoire, which includes documentaries and feature films from all over the world. Our focus is particularly on communicating socially relevant topics, promoting cultural exchange and stimulating difficult debates. With our work, we also enrich the local cinema landscape with films that spark controversy - such as Philip Gröning's radical, nearly three-hour masterpiece "My Brother's Name is Robert and He's an Idiot" or Jan Bonny's award-winning Nazi drama "Germany. A Winter's Tale."
One focus of our program is on environmental documentaries that raise awareness of sustainability and climate protection. In "Our Soil is Our Heritage", Marc Uhlig makes an inspiring plea for sustainable agriculture and nutrition, while cult photographer Jim Rakete portrays Generation Greta and young climate activists in "NOW."
In addition to these important thought-provoking films, we offer the best entertainment with playful comedies such as Valérie Donzelli's "Notre Dame" or take the audience to the magical panorama of the Lofoten Islands with David Wnendt's feel-good movie "The Sunlit Night". To guarantee you a perfect cinema experience, we regularly organize unforgettable premieres, cinema tours and special screenings with filmmakers and experts.
In October 2019, W-film received the 2019 BKM Distributor Award for special achievements in the distribution of artistically outstanding films. W-film is a member of AG Verleih, Filmbüro NW and AG Kino.
Here you can subscribe to the W-film newsletter and be informed about your new favourite films. 
The W-film print catalogue 2022, which covers our entire film repertoire and invites you to discover old and new film gems by sorting them by theme.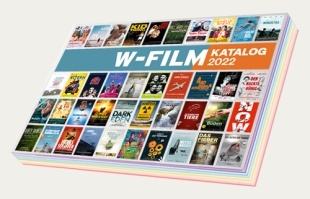 Here you can download the W-film catalogue 2022 (in German) free of charge as a PDF or order the print copy free of charge by e-mail. We hope you enjoy browsing! We hope you enjoy browsing!

 
About cine-connect
W-film works together with the agency cine-connect in the areas of press, marketing, cinema scheduling and post-production.